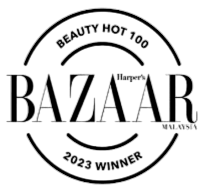 🌟 Celebrating our Harper's Bazaar 2023 Beauty Hot 100 Awards Win! 🌟
We are thrilled to announce that R+B (Repurpose Beauty) Circular Beauty Company has been honoured with the prestigious Harper's Bazaar 2023 Beauty Hot 100 Awards! This recognition affirms our commitment to excellence and innovation in the world of beauty. Our winning products will be featured in the July 2023 issue of the Harper's Bazaar magazine.
To share this incredible achievement with you, we are thrilled to offer an exclusive opportunity for you to try this award-winning skin care magic worth upto RM95, for FREE*!
HOW TO CLAIM OUR FREE PRODUCT
Step 1
Claim the gift by clicking on the "Claim Now" button below
Step 2
At the checkout page,fill in your details and continue to checkout, Hurry! Promo ends 30 June 2023
Step 3
Pay the shipping and a FREE* product will be on its way to you
* One FREE FULL SIZE PRODUCT worth upto RM95. It will be on a random basis depending on stock availability. This promo is open to Malaysia and overseas. For the latter, it will be based on the lowest shipping rate charged by the courier company at the time of registration.