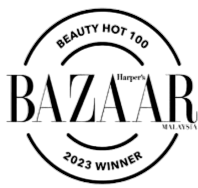 🌟 Celebrating our Harper's Bazaar 2023 Beauty Hot 100 Awards Win! 🌟
1. This promo ends on 14 July 2023. No extension will be allowed.
2. The promo is open to Malaysia and overseas.
3. ONE unit of random Full Size Product worth upto RM95, per customer and will be based on stock availability.
4. Promo mechanics as follow:
Step 1
Visit the link https://rnbgbeauty.com/HBBH100 or scan the qr code given .
Step 2
At the checkout page,fill in your details and continue to checkout, Hurry! Promo ends 14 July 2023
Step 3
Pay the shipping and a FREE* product will be on its way to you
* One FREE FULL SIZE PRODUCT worth upto RM95. It will be on a random basis depending on stock availability. This promo is open to Malaysia and overseas. For the latter, it will be based on the lowest shipping rate charged by the courier company at the time of registration.
5. Customer only pay for the shipping as follows:
Peninsular Malaysia – flat shipping rate of RM28
Sabah & Sarawak – flat shipping rate of RM38
Overseas – Prevailing lowest rate quoted by third party courier company at the time of registration and checkout